PhoneLine+ is a straightforward phone line replacement service designed to save you time, put you in control, and deliver a superior experience for you and your customers. As the legacy public-switched telephone network is being phased out, PhoneLine+ uses VoIP (Voice over Internet Protocol) technology to keep your phone and number working seamlessly on the new network.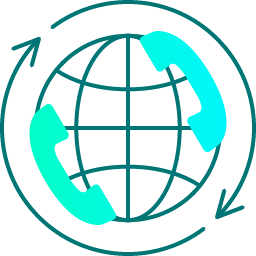 Future-Proof Your Communications with PhoneLine+
As a small business owner, you understand the importance of your phone number. It's known to your existing customers and widely advertised to attract new ones. PhoneLine+ has been specifically designed to replace your traditional landline service using VoIP technology to deliver voice calls over the broadband network, all at a highly competitive price.
PhoneLine+ can be accessed on a variety of devices including computers, tablets, mobile phones, and IP handsets. We can even provide an adaptor for your current phone, so there's no need to invest in new equipment unless you want to. It supports all the key features expected of a traditional telephone line including voicemail, call divert, and call hold. But without paying more, PhoneLine+ provides extra features designed to make your life easier.
As a software-based solution, PhoneLine+ can be updated and maintained remotely by your service provider, safeguarding your business as technology evolves. And as an Administrator within your PhoneLine+ account, you could have complete control over who is a subscriber in your company which makes it easy to add and remove users and reallocate phone numbers as required.
With PhoneLine+, there is no need to start over because you can take your existing phone number with you, so there is no disruption for your customers, and you waste no time or money changing your signage, stationary, advertising etc. And access to PhoneLine+ is password protected so your information and that of your customers is held securely.
Seamless Transition
PhoneLine+ ensures a smooth transition from traditional landline to VoIP technology. You can keep your existing phone number, minimizing disruption for your customers and saving you time and resources.
Versatile Access
With PhoneLine+, you can access your phone line from various devices including computers, tablets, mobile phones, and IP handsets. This flexibility allows you to stay connected wherever you are, on your device of choice.
Enhanced Control
PhoneLine+ provides you with complete control over your phone system. As an Administrator, you can easily add and remove users, reallocate phone numbers, and manage your account remotely, offering a level of adaptability that traditional phone lines can't match.
PhoneLine+ is more than just a phone line replacement service. It's a comprehensive solution designed to improve your customer experience, save you time, and work smarter. With PhoneLine+ you can be there for your customers – anywhere, any time, and on your choice of device.
Ready to make the switch to PhoneLine+? Contact us today to learn more about how we can help you transition smoothly to this superior phone line replacement service. Our team is ready to answer any questions you may have and guide you through the process.
Cobalt Business Exchange, Cobalt Park Way, Newcastle upon Tyne, NE28 9NZ